Electric  Foil: Fly above the water
Efoiling is a thrilling  new watersport that requires no previous experience to enjoy. Electric Foiling  is the easiest way to start  to learn hydrofoil.
Electric Foil Session
With expert instruction from the captain, and tips and advice from our enthusiastic team riders coaching you along, riders at Miami watersports Paradise enjoy rapid progress in their riding ability.
Call 786-484-8022 for more information about our Miami efoiling Watersports Packages!
Book electric foil lessons now!
Price
Package includes:
This is a private Efoil  session.
1 electric foil board
Instructor / Captain
Equipment: life vests
1 jet ski instructor
Rules and Regulations
Reservations in advance are mandatory to insure availability.
This watersports session is suitable for all levels, from beginner to advanced.
Minimum age requirement is 8 years-old.
The captain has the authority for the boat, and any changes or cancellations of trips will be for the sole purpose of ensuring safety.
What to bring?
A towel
Sunscreen (non-spray)
Swimsuit
Meeting location:
Exact meeting location will be confirmed the day before your reservation as we will pick you up where the best wind and waves conditions are on that day.
– Please arrive 10 minutes prior to your scheduled departure time .
What is not included?
Snacks and drinks are not included. However, feel free to bring along snacks or a picnic dinner, as well as your own drinks.
Gratuity is not included. However, if you would like to leave a tip for excellent service, you are more than welcome to do so.
Cancellation policy:
Full refund if cancellation is made before 48 hours.
If we decide to cancel because of weather it is a full refund or customer may reschedule for another day/time.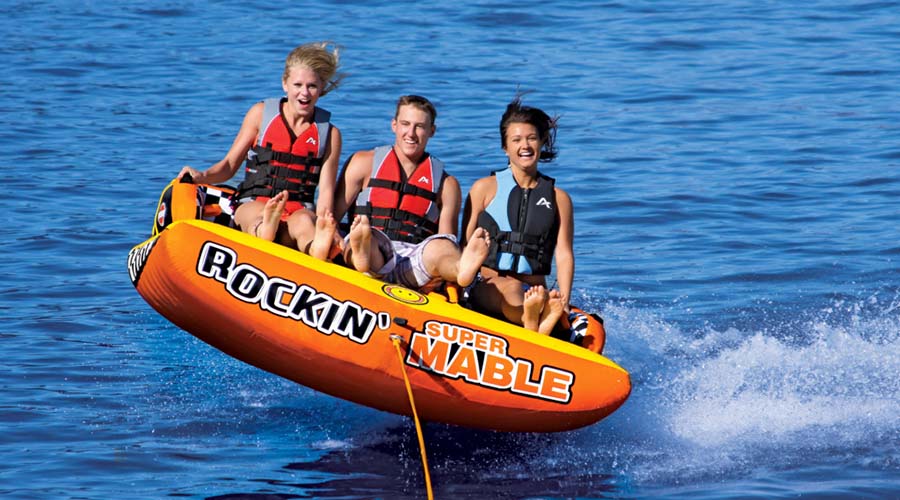 Tubing
Tubing is the most fun and easy towed sport! Have a blast jumping around on the tube. Kids and adults alike can't get enough of it!