Jet Ski Tour
Enjoy an amazing waverunner ride in Biscayne Bay with our unique Jet Ski tour. If you like speed, this is the activity for you! It's fun, exciting! Riding a waverunner doesn't require any special physical training.
We offer a one of a kind experience with incredible views of Miami islands, waterfront homes and waterways.  Our guided tours will take you on the thrill ride of your life, all the while enjoying some breathtaking views and wildlife.
Jet Ski Rental
You can also chose to rent the Jet Ski and stay close to Pic Nic Island. We will bring you there by boat. It is a safe area where you can have fun around the island.
Our jet skis seat 2 people.
Come enjoy an unforgettable Jet-skiing experience!
Call 786-484-8022 for more information about our Jet Ski Tours & Rentals!
Before making you reservation, please make sure you read all the regulations in "Good to know"
Price
1-Hour Jet Ski Tour: $189/ waverunner
2-Hour Jet Ski Tour : $299 / waverunner
1 Hour Rental: $149 / waverunner
Package includes:
Equipment: life vests and Jet Ski
Instructor / Guide
Jet Ski gas included
Instruction included
Use of the latest watersports equipment
Regulations for Jet Ski Rental & Tours:
MANDATORY: MUST BRING 1 Credit Card per reservation for the MANDATORY $500 deposit
MANDATORY: MUST BRING a valid ID (just like when you rent car, you need your ID, it's the law)
Guests born in or after January 1, 1988 must have a valid boating license (NASBLA approved).
Check BoatUS' website to get your license. It is free!
Only 2 guests per Jet Ski
Children passengers must be tall enough to the floor with their feet while seating behind an adult
Reservations in advance are mandatory to insure availability.
This wave runner session is suitable for all levels, from beginner to advanced. We will teach you how to operate the machine safely, so you can feel secure in the hands of an experienced team.
What to bring?
A towel
Sunscreen (non-spray)
Swimsuit
Meeting location:
Exact meeting location details will be provided upon the reservation.
What is not included?
Gratuity is not included. However, if you would like to leave a tip for excellent service, you are more than welcome to do so.
Cancellation policy:
Full refund if cancellation is made before 48 hours.
If we decide to cancel because of weather it is a full refund or customer may reschedule for another day/time.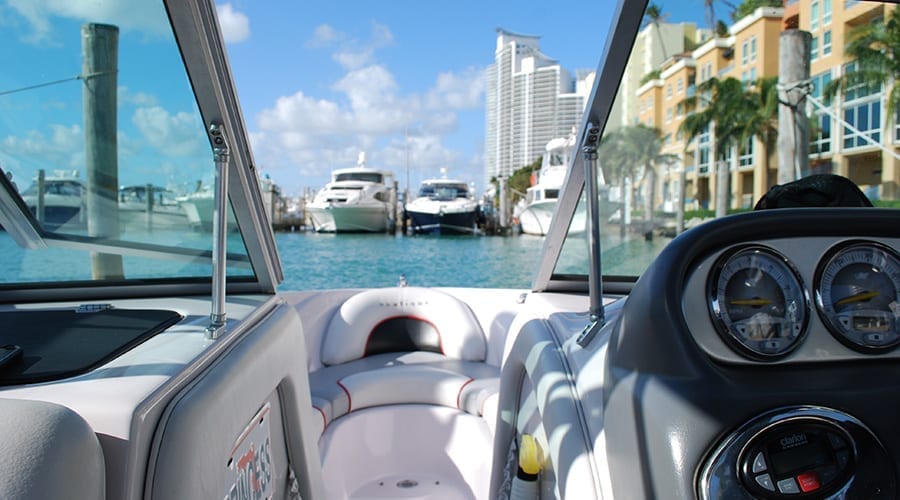 Boat Rental
This Captained Boat Rental will take you around Biscayne Bay to view Miami and its beautiful islands from the water, and relax on a Sandbar!
Wakesurf
Want to surf the Miami endless Wave? Enjoy a wakesurf session and surf behind our boat in Miami beautiful Biscayne Bay.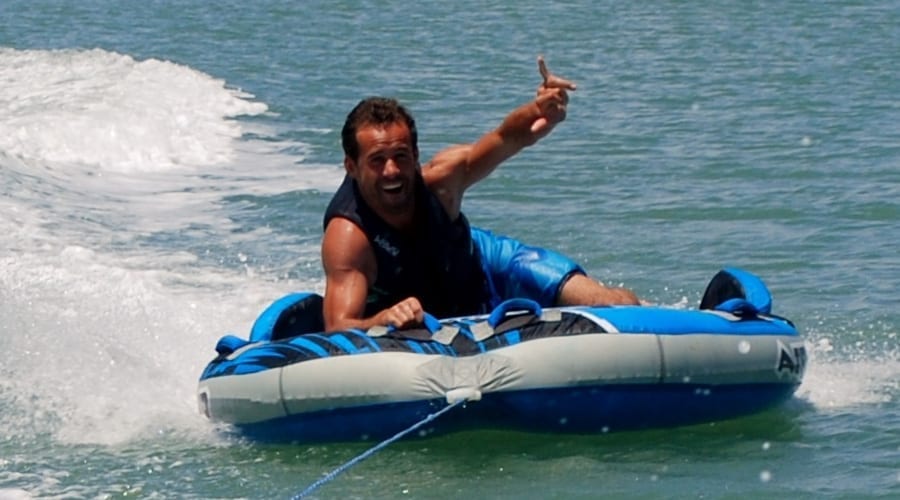 Tubing
Tubing is the most fun and easy towed sport! Have a blast jumping around on the tube. Kids and adults alike can't get enough of it!