Captained Boat Rental + Flyboard + Jet Ski ride, Tubing, Waterski, Wakeboard, Paddle Boards, Kayaks, Snorkels & Masks
With the Ultimate Watersports Package, you will have a tour of Miami Beach, and its beautiful islands. Then we will stop at an exclusive island to enjoy a variety of fun activities like kayaking, paddle boarding, swimming with Snorkels & Masks, waterskiing, tubing, wakeboarding, flyboarding, jet skiing.
Enjoy the Ultimate Watersports Package with your family, your friends or even your co-workers, during 4 Hours.
Make sure you read the Good to know section as some regulations apply.
Price / person
$350 / person
3 to 4 hours depending on the number of guests
Minimum 3 person
The Ultimate package includes
Miami Beach boat tour + Paddle Boards + Kayaks + Swimming with Snorkels and Masks + Waterski + Wakeboard + Flyboard + Tubing session + Jet ski ride
Boat, Gas, Equipment, Captain and instructions are provided
Flyboard and Jet Ski package requirements:
MANDATORY: MUST BRING 1 Credit Card per reservation for the MANDATORY $500 deposit for the Jet Ski rental
MANDATORY: MUST BRING a valid ID (just like when you rent a car, you need an ID to rent a Jet Ski, it's the law)
Guests born in or after January 1, 1988 must have a valid boating license (NASBLA approved) in order to drive the Jet Ski (it's the law)
Check BoatUS' website to get your license. It is free!
Only 2 guests per Jet Ski
Children passengers of the Jet Ski must be tall enough to the floor with their feet while seating behind an adult
For the Flyboard, the pilot must be 13 years-old AND weigh more than 100 lbs
Reservations in advance are mandatory to insure availability.
This watersports session is suitable for all levels, from beginner to advanced. We will teach you how to operate the Jet Ski, and how to fly on the Flyboard, so you can feel secure in the hands of an experienced team.
What to bring?
A towel
Sunscreen (non-spray)
Swimsuit
Meeting Location
Exact meeting location details will be provided upon the reservation.
What is not included?
Gratuity is not included. However, if you would like to leave a tip for excellent service, you are more than welcome to do so.
Cancellation policy:
Full refund if cancellation is made before 48 hours.
If we decide to cancel because of weather it is a full refund or customer may reschedule for another day/time.
Jet Ski + Flyboard
This package includes a 30 min Jet Ski ride in Biscayne Bay and a 30 min Flyboard to fly like Ironman!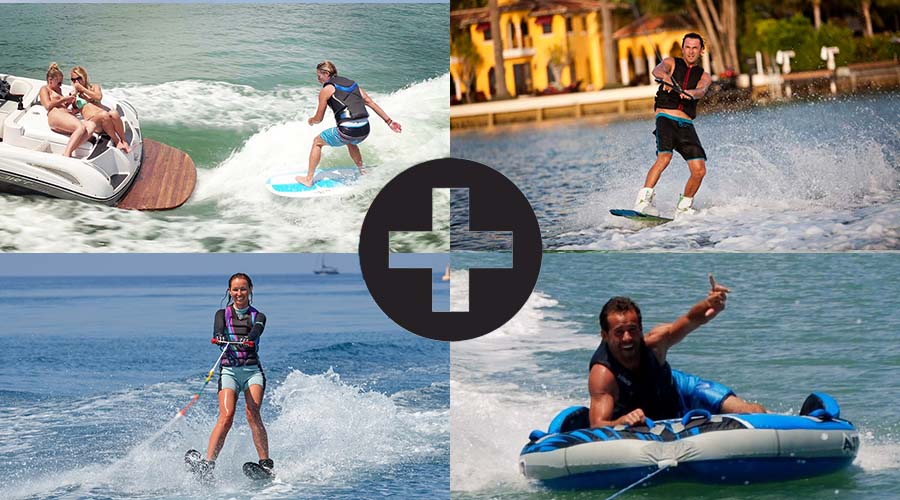 Watersports Package
Learn to Waterski, Wakeboard or Tubing from a knowledgeable instructor! You can try it all!
Paradise Package
This Packages includes a Boat Tour in Biscayne Bay, Paddle Boards, Kayaks, Easybreath Snorkels, a Tubing session and a Jet Ski ride!