WAKEBOARD LESSONS IN MIAMI
Wakeboard is so addictive! As the world's fastest growing tow sport, it created its own lifestyle.
But you don't have to be able to hit a sick scarecrow or throw down a tantrum to enjoy wakeboarding. It's a sport that provides a sense of achievement and thrills even for complete novices.
At Miami Watersports Paradise our qualified, certified and experienced coaches will have you on your feet in no time, and their patient instruction ensures your fast progress to being 'dope on a rope'.
Intermediate rides at Miami Watersports Paradise benefit from the quality of our equipment, boat and coaching, progressing their riding skills and learning new tricks each and every session. Specific programs can be worked out to ensure your development is measurable, and the satisfaction of nailing your goals and landing your tricks lasts long after you're back on the dock. With a tournament level boat and wonderful conditions, advanced and expert riders will adore the relaxed atmosphere we generate, allowing you to concentrate on enjoying what you do best.
Wakeboarding is a highly rewarding sport that requires an average degree of athletic ability and Miami Watersports Paradise has lessons and sessions available for groups and individuals from 8-years old and upwards.
Call 786-484-8022 for more information about our Miami Wakeboarding Watersports Packages!
Price for the boat
1 Hour: $260
2 Hours:$520
The price is for the boat. On average, in a 1 hour session, 3 people will have time to wakeboard.
If you wish to, you can also try Waterski, or Tubing during your session, at no extra cost. Just let your Captain know before you leave the dock.
Package includes:
This is a private Wakeboard session.
1 watersports boat
Up to  5 people can be on the boat
Instructor / Captain
Equipment: life vests and wakeboards
Boat gas provided
Use of the latest watersports equipment
You can also do Waterski, or Tubing ( let your Captain know before you leave the dock).
Rules and Regulations
Reservations in advance are mandatory to insure availability.
This watersports session is suitable for all levels, from beginner to advanced.
Minimum age requirement is 8 years-old.
The captain has the authority for the boat, and any changes or cancellations of trips will be for the sole purpose of ensuring safety.
What to bring?
A towel
Sunscreen (non-spray)
Swimsuit
Meeting location:
Exact meeting location details will be provided upon the reservation.
##Check in information
– Exact meeting location will be confirmed the day before your reservation as we will pick you up where the best wind and waves conditions are on that day.
– Please arrive 10 minutes prior to your scheduled departure time.
What is not included?
Snacks and drinks are not included. However, feel free to bring along snacks or a picnic dinner, as well as your own drinks.
Gratuity is not included. However, if you would like to leave a tip for excellent service, you are more than welcome to do so.
Cancellation policy:
Full refund if cancellation is made before 48 hours.
If we decide to cancel because of weather it is a full refund or customer may reschedule for another day/time.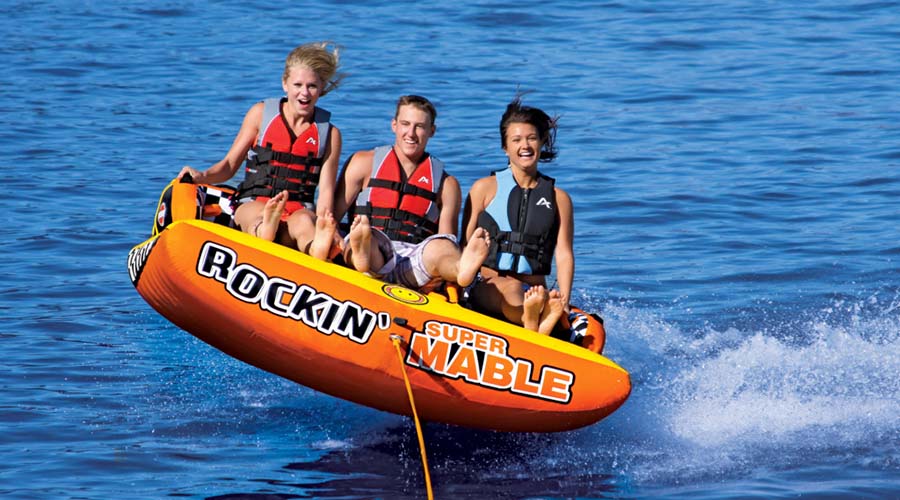 Tubing
Tubing is the most fun and easy towed sport! Have a blast jumping around on the tube. Kids and adults alike can't get enough of it!